Webinar: "Discovering and Realising New Opportunities in Asia" with Ms Carry Lam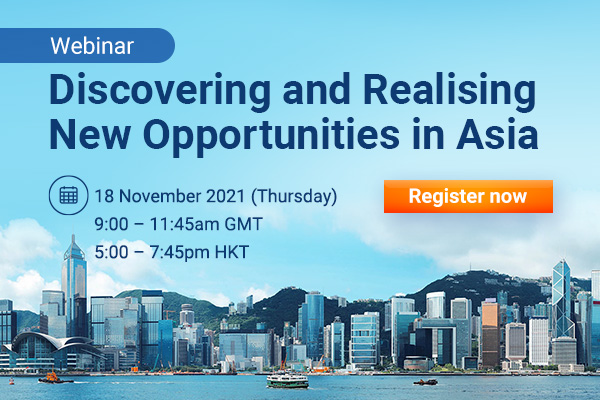 To register, please click here: https://nhkba.news/13k  
The free webinar "Discovering and Realising New Opportunities in Asia" will be held Thursday, 18 November 10:00 hrs CEST and is hosted by the Hong Kong Trade Development Council. Special guest speaker at the webinar will be Ms Carry Lam, Chief Executive of the Hong Kong Special Administrative Region. The event will also include three topical breakout sessions. Senior government figures and global business leaders will discuss how businesses can take advantage of Hong Kong
The topics of the break out sessions are: 
-        Finance: Capitalise on new opportunities in Asia's financial sector, with practical tips shared on how businesses can leverage Hong Kong as an international financial centre and asset management hub, as well as on the rising opportunities relating to green and sustainable finance in Asia via Hong Kong, particularly in the Guangdong-Hong Kong-Macao greater Bay Area (GBA) and ASEAN.
-         Business Expansion: Discussion on how companies can utilise Hong Kong's international reputation as a trading and investment hub to leverage the city as a platform to capture rising opportunities in Mainland China and ASEAN.
-        Healthcare: Capture the vast opportunities Asia's healthcare market, with insight on how firms can use Hong Kong's strength on R&D capabilities and fundraising.
To register, please click here: https://nhkba.news/13k